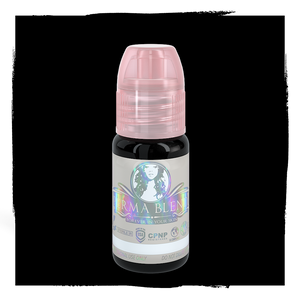 Perma Blend - Black Hole
Regular price $0.00 $32.00 Sale
New Inga Babitskaya For Eyes Colors by Perma Blend
All shades are easily applied to the skin. Suitable for powdery, pixel and boundary application techniques. These contain all the necessary stabilizers and color correctors. They do not acquire unaesthetic hues in the process of skin regeneration and center stabilization, as well as with the course of time. Quickly applied to the skin. Persistent. The balance after stabilization is at least 80%.

Deep black color. Does not migrate, does not spread. In the process of work, it is easily removed from the skin.
0.5 oz.
Free shipping for orders starting at $50. Use code: 50PIGMENTS
Ships only in the U.S.
PIGMENT DISCLAIMER
PIGMENT IS FOR PROFESSIONAL USE ONLY.
BY PURCHASING AND USING THE PIGMENT YOU AGREE THAT YOU ARE USING IT AT YOUR OWN RISK.
SKIN ALLERGIES MAY OCCUR. SPOT TESTING IS RECOMMENDED PRIOR TO FULL APPLICATION.
STORE IN A COOL, DRY PLACE AND OUT OF DIRECT SUNLIGHT.
DO NOT USE ON WOMEN WHO MAY BE PREGNANT.
NOT FOR CONSUMPTION.